Air Purifier Location. Where is the best Place?
Finding the optimal Air Purifier location is important as choosing one for your home. Put it in the wrong place and you won't even notice the big difference.

Short Answer: The Best Air Purifier Location is close to a source of contamination, if there is one. For better effectiveness, do not place it somewhere high or in the corner. Too close to objects it might block its proper air filtration. Do not place your Air Purifier behind Electronics.
Let's look at it in details:
---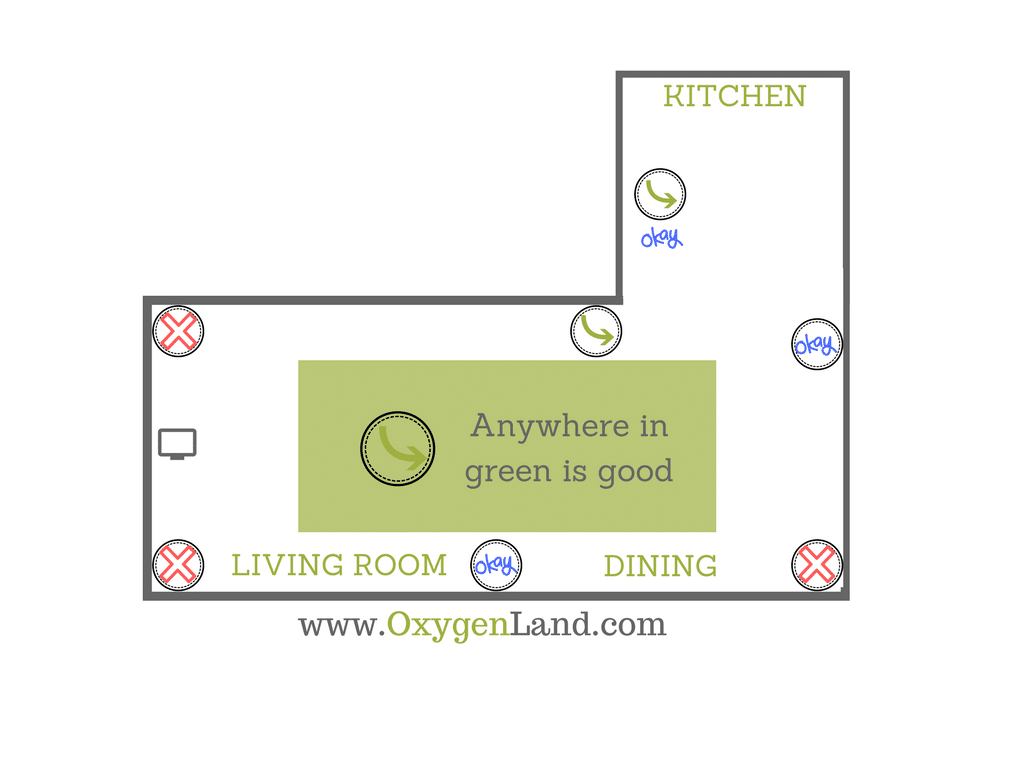 ---
As you can see in the scheme above: Anywhere within the green area is good place for your Air Purifier, however it might be relevant at this point, because we have the following unknowns:
type of air purifier,
your environment,
surroundings
Consider this before finding the ideal air purifier location.
If you are like most of the people, you get bothered by things that seem out of place. And in this case, you are probably wondering where is the best Air Purifier location and not get upset by it.
I've been there
Finding the most functional space for your air purifier can be exhausting. Since we all want usability, but we also want to get the best out of aesthetics.
So if you are having a trouble of figuring out an ideal location to put your Air Cleaner – don't worry
You're in the right place.
What i am gonna show you is how to find a balance between usability and aesthetics, in order to improve the air you breathe.
However,
Before we start, It is also very important to consider…
---
  #1 What Type of Air Purifier are you using? Is it Fanless? Portable? Hepa Filter? Carbon Filtered? Whole-House Portable System?
  #2 How does it really work?
  #3 What's its effective CADR rating for that particular room.
  #4 Is there a heavy pollutant in the house. Smoke, Mold, Dust Mites, Pet Hair?
  #5 What Air Purifier Location is the vendor preferring? Or Not.
  #6 How many Air Changes per Hour (ACH) are possible.
---
"Clean Air Delivery Rate ( CADR ) is the amount of filtered air volume returned to the air after being filtered by the air purifier.

---
Example: If the room has more furniture, objects, than the CADR rating goes down.
Which room is preferred for my Air Cleaner?
A general rule is placing the Air Purifier in the room where you spend most of your time. However, if you have small or portable purifier you can change it between rooms. Daily in the living-room or in the kitchen, at night at the bedroom.
It all depends on the situation
---
If you have open floor plan it should be placed between the kitchen and the living room area for maximum effectiveness. But if the air pollutant is dust mites, pet hair this time, should be placed in the living room.
If you hate kitchen odor, place it there.
If you have a baby, it is a good idea to have a high-quality air purifier in the baby room.
---
Did you know? According to WECF there was an Indoor Air Quality study wherein 40% of the baby and children rooms were found pollutants (formaldehyde, volatile organic compounds)  that are above-accepted levels, that are bad for their physical and mental health. So invest in your children's room too!
Is my Air Purifier effective for this area?
Let's take an average 1500 sq ft home as an example.
On the specifications of your Air Cleaner, it says it filters the air in a 360 sq ft room. That's great. So you place it in your 340 sq ft living room. In the nearby corner where there is a power outlet and it doesn't intrude the interior of the room.
First of all
Those specifications most of the time are made for the optimal environment.
This means you might not get the full benefits of the purifier. Unless you place an air purifier that covers 360 sq ft, in a room that's half of that size, that might actually work.
Bear with me, because I am going to show you how to get the maximum of your air purifier and help you find where is the best Air Purifier Location for your home.
Air Purifier Placement
Before you continue further, watch this 30 seconds video made by Dyson air Purifiers.
You will notice that on the 11th second he says it can be placed anywhere.
But right after that says you can use the oscillation function for better room coverage. 
So yes, location matters. Have you noticed how all of the air purifier commercials put the purifier almost in the middle of the room?
Now not all of the purifiers have Fans, and only a few have a similar function like Dyson's oscillation function in order to be more effective.
Most importantly
The tests they are doing to advertise the square footage, are in an environment that is not like yours, and even more importantly they don't have your furniture in them. This must be taken into consideration.
This again means that the location of your air purifier do matters!
Have you considered asking yourself these questions?
---
Does the room have or lack air circulation?
What about a nearby window that doesn't close?
Is the place of contamination near?
Where is the best place to put an air purifier for mold?
---
Air Pollutant Location? What u need to know at this point.
Either its dog hair, mold or dust mites you should really look into this.
Here are some examples of where you can find an Air Pollutant that causes your home to smell bad or it can cause you allergies.
---
It can be smoke in the living room from cigarettes. This can get into furniture and give the room funky smell. Keep in mind that no air purifier can remove the residue of  cigarette smoke from a house that has been smoked in months or even years. The Small percentage of air purifiers remove the Visible Smoke, and slightly reduce the smell. However, the dangerous particles are still in the air. Before you choose an air purifier for this purpose do a thorough research. Air Purifiers from IQAir, Molekule or RabbitAir are worth to check.
From an open window, or a door you can get pm 2.5 particles caused by outside air pollution into your room, also pollen.
Pet hair on the carpet, furniture, under the furniture, in corners from the air filtration, behind grounded electronics.
Dust mites in the carpet, furniture, closet, clothes.
Mold can happen if the wall, object or furniture is wet most of the time.
---
Now I must add that these air pollutants can stick together. A small breeze or some kind of movement in the air can mix very small pet hair with the dust mites, which can be very bad for everyone. So if you haven't thoroughly cleaned your carpet for very long time and you have pets it might be time to do something about it. Or you are increasing chances to get allergic to these pollutants.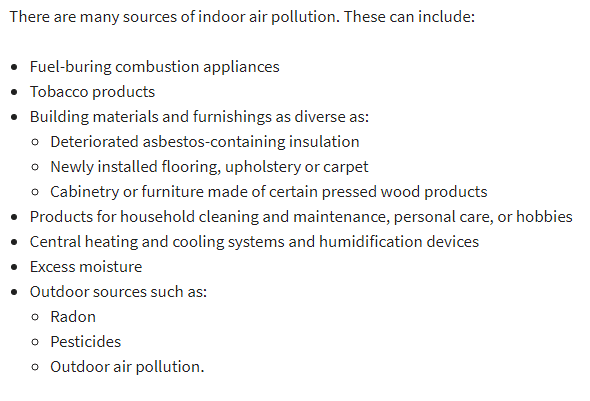 Can I place it near a window?
Some air purifier actually works great if you place it 1 meter near a small open window. This way you get fresh filtered air in the room. But don't do this all the time. Because the most preferred working conditions for an air purifier is if everything is closed shut.
Can I place it near an air conditioner?
This actually can be a good idea, since it uses the airflow of your air conditioner, which can help the filtering process faster.
Where to position?
Unless your air purifier can receive air from all the sides. Its the best to point your air purifier toward the center of the room.
What is the ideal spot for air purifier if you have allergies?
The ideal spot is near the Air pollutant! This is because it traps the bad particles faster. Speeding the filtering process. Unless you have Air Purifier that doubles the air coverage of that room it should be placed near the Air Pollutant. This is the best air cleaner location for allergies!
Where not to place your air purifier!
Don't place it near Electronics! This means stay away from the TV, Stereo Equipment, Microwaves because it can cause interference with them.
Don't place it too close to a wall, or under shelves, since it needs space to breathe.
Don't place it in spaces where it has limited air flow. Example corner trapped from all sides by furniture or other objects.
Conclusion:
As you can see it all depends on the situation you are in. The Type of the Air Purifier you are using, and the Environment. However before finding the most ideal Air Purifier Location check that short summary below.
To sum up:
---
Place it in the room you spend most of your time.
Move it to your bedroom at night
Make sure the air purifier can breathe, this means at least 30cm distance from objects, walls.
If there is Pollutant in the house, place it near so it would trap the bad particles faster.
If it is for general use, place it somewhere more in the middle of the room.
Near walls is fine just don't stick it next to them(Depends on the CADR rating on your air purifier).
Don't place it in corners, under shelves, or behind furniture.
With this guide go investigate and find out what works the best for you.
Always buy an air purifier that has higher area of coverage than the area you are planning to use.
---
If  you have any questions, thoughts please share with us. Write in the comments below. I would be more than happy to answer.
Let us know what worked for you
I hope this post cleared some thoughts for you on where you can find the best Air Purifier Location.